International Festival of Telecommunications Art
January 1 - 17, 1991
The Western Front has been a node on an international network of artists who use telecommunications art since the late seventies. Electronic mail and Slowscan, a form of videophone, were the first media used, followed by experiments with telefacsimile (FAX). In 1983 12 cities around the world were connected for a story-writing project called "La Plissure du Texte." Each city played the part of a character in a bilingual fairy tale. Every day for six weeks, the computer terminal disgorged the contributions of the other characters and it was up to each node to formulate a response that would further thicken the plot and send it out on the E-mail net. For the Venice Biennale in 1986, a similar network sent images and comments to Venice on the theme of World News, creating an experimental "news service" and reflecting on how these effect us.
The Western Front has proposed the International Festival of Telecommunications Art as a freewheeling period of exchange and research. During the 17 days of the Festival, we will make connections with universities, artist groups and individuals in locations as far away Rio De Janiero, Tokyo and Baker Lake. A team of European correspondents (Van Gogh TV, Hamburg) will join us by videophone from various cities as they make their way gradually to Vancouver. They are expected to arrive here on January 16, just in time for Art's Birthday.
Interested individuals are invited to prepare short pieces for transmission by FAX, videophone and/or audio. Our FAX number for the Festival is 604-876-4099.
(FRONT, January/February 1991, pg 13)
Dana Atchley, Next Exit
Performance - Friday, January 11, 9pm
During the heyday of Mail Art, there was one man who actually took the trouble to drive around North America and make a physical bridge between different points on the network. That man was Dana Atchley, or, as he was more commonly known, Ace Space. A first generation video artist and travelling image collector, Ace Space would present ingenious and sophisticated multimedia slide shows, bringing news from one node to the next and celebrating the romance of the road. Since his last visit to Vancouver (exactly 10 years ago) Dana has been spending most of his time producing video in San Francisco.
NEXT EXIT is a showcase of twenty-first century storytelling, the multimedia autobiography of Dana Atchley, a musical journey through the visual memorabilia of a half-million-mile video adventure. Looking at the world through the rearview mirror, NEXT EXIT is one man's retrospective at mid-life.
I took a trip and in my suitcase I packed:
A Giant Alligator
A Brightly Burning Video Campfire
My Grandfather's Home Movies
A CB Radio
My First Photograph
A Video Gun ..
An Iowa Cornfield Beauty
A Painted Rock
A Message Beyond Reason
The Memories of a Thousand Possible Lovers
(FRONT, January/February 1991, pg 12)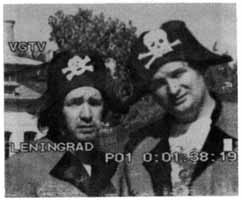 Van Gogh TV
Ponton Media Hamburg, January 16, 9pm
Mike Hentz and Benjamin Heidersberger are two members of Van Gogh TV, an amazing media art adventure from Hamburg, Amsterdam, Berlin, Frankfurt, Lyon .. actually a decentralized tribe of media pirates from all over Europe. By satellite TV, street life/performance, (un)official interventions at large festivals and their own publications, this group provides a valuable critique of both the mass media and art worlds from its strategic lookout on the borders of both/each.
Hentz is a founder of Minus Delta-t, best known for its "Bangkok Project" - to take a huge boulder from Frankfurt to Bangkok by truck. The first time, they made it as far as Turkey. On their second try they got yo India, attended the Delhi Triennale, but were stumped by Burma. The rock, having been blessed by the Pope and Bruno Kreisky, now awaits further developments at the bottom of the Ganges. Hentz has also implicated in Infermental and a host of other groups - Frigo, Rabotnick, Anita - the subculture of Euro media.
The mysterious Heidersberger is cheif technician of Ponton Media and a noted clone guru. For the last two years at the Ars Electronica Festival in Linz, Ponton's Van Gogh TV project brought alternative media groups together from several cities to broadcast three hours a night for three nights over the satellite/cable broadcast system, Sat 3, received by cable in Austria, Germany and Switzerland. Five minutes of live access in North America, let alone 3 hours, is unthinkable. Could it be that Ponton's objective at this point is to gain serious access to international broadcast satellite transmitters?
(FRONT, January/February 1991, pg 13)
Art's Birthday National Public Holiday
Thursday, January 17, 1991
FAX and Slowscan transmissions throughout the day.
Birthday party: 7 - 11pm PST
How old is Art? A million years ago, there was no Art - Art was Life. But then, on the 17th of January, someone dropped a sponge into a bucket of water and Art was born. In 1973, French artist Robert Filliou proposed the idea of celebrating Art's Birthday and the German city of Aachen took him up on it. A public holiday was declared, kids were let out of school, bands played and everyone has a good time. The idea has grown slowly since then. Art's on million and twenty-eight birthday will be celebrated by artist-run centres across Canada plus a few in other countries.
For this year's party we welcome to Vancouver Mike Hentz and Benjamin Heidersberger, two members of Van Gogh TV, Hamburg.
Join us for this ancient celebration. Bring a birthday present for Art. Have a piece of birthday cake and a glass of bubbly. Art's Birthday is an international party. We will be celebrating with friends of art across Canada and connected to France by slowscan and FAX. There will be video and long distance telephone calls, entertainments, jokes and music.
(FRONT, January/February 1991, pg 14)
Excerpt from "Wiencouver History"
by Heidi Grundmann
(Talking about Art's Birthday 1991 and TEXT, BOMBS, AND VIDEOTAPE)
In 1991, when Western Front held an international Festival of Telecommunication Art in Vancouver, ART's BIRTHDAY celebrations entered the matrix of collaborations between artists in Vancouver and artists from/in Vienna for the first time. The Jan/Feb issue of Front Magazine announced: "we will make connections with universities, artists groups and individuals in locations as far away as Rio de Janeiro, Tokyo and Baker Lake. A team of European correspondents (Van Gogh TV, Hamburg) will join us by videophone from various cities as they make their way gradually to Vancouver..."
Participation from Vienna was limited to email via Artex as no videophone was available. An Artex message from Roy Ascott explained that he was unable to participate from Vienna because his flight from Britain was delayed by the outbreak of the Gulf war. In fact most of the contributions to ART's BIRTHDAY 1991, were protests against the First Gulf War. Hank Bull later wrote: "Just before showtime, the Americans started the bombing of Baghdad and our party turned instantly into a protest. We found ourselves in the possession of an international electronic network, just like CNN's, the important difference being that ours was interactive.....Symbolically, this event offered an alternative to the television viewer's passive frustration." (H.B.in Whispered Art History,1993).
The high-tech attack on Iraq demonstrated dramatically that telecommunications artists operate in the same space as the military to the artists participating in ART's BIRTHDAY 1991. Already in 1989, Robert Adrian had written, in a text for the catalogue of the ARS ELECTRONICA FESTIVAL in Linz, Austria:
"The electronic space in which telecommunications artists - along with transnational corporations, stock markets and the military - operate is a complicated concept made possible by another phenomenon of art in the 1970's ... conceptual art. Conceptual art demands a conceptual space in which to exist and a culture that has grasped that elusive notion will have no trouble at all de-materialising its power structures into something as relatively concrete as the electronic space of international electronic communications networks."
Shocked by the brutality of the high-tech weaponry deployed in the bombing of Baghdad, the DAX group at Carnegie Mellon University in Pittsburgh (whose robotics labs had heavy Pentagon funding) initiated a project called "TEXTS, BOMBS AND VIDEOTAPE. A Journey into the Zone", a title suggested by Roy Ascott. in 1986 a new department of communications theory had been established at the University of Applied Arts in Vienna (Artex code: HAK) with Roy Ascott as professor. Ascott and his assistant Mathias Fuchs, with students from the class, continued to initiate, and participate in, telecomm projects.
In January/February 1991 - during the preparation of TEXTS, BOMBS AND VIDEOTAPE - Ascott was communicating from Vienna as documented in the March/April 1991 issue of the Western Front magazine. The documentation also contains some of the images exchanged between nodes in Vienna, Pittsburgh, New York, Vancouver a.o. According to the Western Front Archives, TEXT, BOMBS & VIDEOTAPE was the last project to make use of the IP Sharp Timesharing System, before it was discontinued by its new owner, Reuters.
(From "Wiencouver History" by Heidi Grundmann, published on this web-site)